DEVELOPMENTAL REHABILITATION ADVICE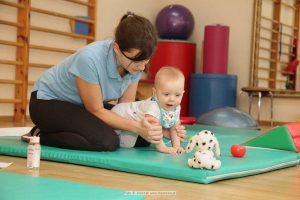 The developmental age rehabilitation clinic covers multispecialist and comprehensive diagnostics and treatment of psychomotor delays in newborns and infants. It is based on clinical medical diagnostics in the field of basic neurology and pediatric orthopedics as well as rehabilitation neuro-kinesiological assessment according to Vojta. Treatment and rehabilitation are based on individualized participation in the therapeutic activities of each child, depending on their health condition. In addition, we offer, if necessary, personalized orthopedic equipment from our orthopedic workshop (foot and shin pads, frejka cushions, basket splints, Pawlik harnesses, orthopedic insoles, shoes and others).
INDICATIONS FOR THE REHABILITATION OF INFANTS:
Preterm newborns – premature babies
Newborns born with asphyxia – with hypoxic-ischemic syndrome
Newborns with low birth weight – dystrophia
Newborns with congenital defects of the musculoskeletal system – dependent feet and other deformities of the feet – valgus, clubfoot, torticollis, positional asymmetries
BABY DIAGNOSTICS INCLUDE:
Interview (examination card): analysis of the medical records provided by the parent
Neurokinetic examination according to Vojta
Orthopaedic examination
A neurological examination
Ultrasound evaluation of hip joints
Ultrasound assessment – preliminary CNS – trans-gastric ultrasound.
INDICATIONS FOR THE REHABILITATION OF CHILDREN AND YOUTH:
Posture defects and spine curvatures
Defects in limb structure – functional valgus of the tarsus (flat feet), valgus of the knees
Congenital defects of the osteoarticular system – underdevelopment and functional disorders,
Qualification for sports, sports injuries – sprains of the ankle and knee joints, overload of shoulder joints, damage to ligaments and tendons, sterile necrosis.
Children's cerebral palsy, meningeal hernias, paralysis of the facial nerve and the brachial plexus.
CHILDREN'S REHABILITATION
diagnostics of posture defects and spine curvatures
diagnostics of limb structure defects and congenital defects of the osteoarticular system
specialized treatment of lateral spine curvatures acc. To the latest methods, using individual therapy, PNF, manual therapy, specialized massages and lifts and corset – therapy monitored by scientific research conducted by the center in cooperation with other spine curvature treatment centers in Poland and abroad as part of the membership in the international association of specialists treating scoliosis – SOSORT- Society on scoliosis orthopedic and rehabilitation treatment.
diagnostics of psychomotor delays in infants using the Vojta and TIMP methods – test infant motor performance
orthopaedic assessment of the build of newborns and infants
prophylaxis and treatment of psychomotor development delays, including MPD with the use of Bobath and Vojta neurophysiological methods (certificates of both methods)
treatment of postural asymmetries, torticollis, clubfoot (Ponseti method certificate)
Rehabilitation treatment of congenital malformations of the nervous and osteoarticular systems of children and infants.